Nigerian actress Bose Akinola is celebrating her husband's 60th birthday and their 30th wedding anniversary, news report.
Bose Akinola took to social media to wishes her husband happy birthday as thanking him for going through thick and thin with her.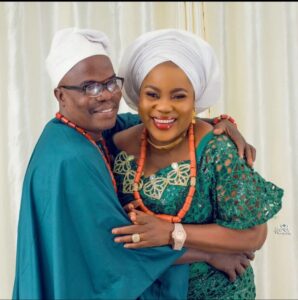 Sharing photos of her husband, she wrote:
Happy birthday to the love of my life, the love I feel for you is deeper than the oceans, bigger than the mountains and I hope that nothing ever comes in between.
Thank you for going through thick and thin with me. The journey has been full of ups and downs, good days and ugly days, lots of challenges but in all of these, you stayed by my side. The grace of God that has brought us this far will sustain us till the end.
30 years journey with you have been colorful. We have been through many seasons together and I want to thank you for still standing by me. Words are not enough to celebrate and appreciate you, but I just want you to know that I will choose you over and over again, I look forward to many more years with you in long life and good health by God's grace.
Happy Birthday my King, I love you!.
In another post, she wrote:
Asake thanks so much, appreciate u alot Reposted from @iyabadansneh Baba Bunmi we le pami layoooo, Happy 60th birthday to you Buoda Akin oko aunty Bose , tanks for ur understanding nd tolerance ooo we love nd appreciate you always Ba'Kamo as I used to call you nd happy 30th wedding anniversary to you nd my bestie together forever In Sha ALLAH. Enjoy your day sir.